Youth Pastor: Jennifer Kim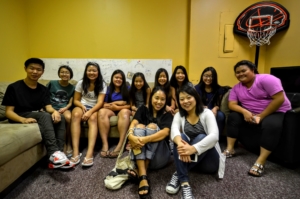 We believe youth (6-12th grade) are the pivotal years our students begin discovering their personal identity and relationship with Christ. In this unique season, our desire is to engage our youth to begin making their faith their own so that they make seeks God's will and in join in on His redemptive work. We do this through Gospel-centered, Word-driven, and Spirit empowered messages along with fellowship events and community outreaches. We want our youth to live out their fullest potential in Christ Jesus using their God-given talents to impact the church and their communities, friends and family.
Sundays – On the 2nd and 4th Sundays of the month the youth convene for a separate Sunday message. On alternating Sundays the youth join their parents in worship service.
Saturdays – The youth meet one Saturday afternoon each month for fellowship activities.
Fridays – Every 3rd Friday of the month the youth have their separate bible study while their parents are at Overflow Service.
Please contact Jennifer Kim to confirm this month's schedule.
Visit our Baptism and Communion  pages for Catalyst's approach regarding the youth's participation.